Audi Q7
and the Porsche Cayenne, although these vehicles differ in design, equipment, and specifications. Other classmates consider cars of the following brands -
Chevrolet Tahoe
,
BMW X5
, Ford Explorer, Honda Pilot,
Hyundai Santa Fe
,
Kia Sorento
,
Land Rover Discovery
,
Mercedes-Benz M-Class
, Mitsubishi Pajero Sport,
Suzuki Grand Vitara
,
Nissan Pathfinder
,
Toyota Land Cruiser
and Lexus RX.
The name of the car was chosen in honor of the nomadic Tuareg people living in the Sahara desert and regions of North Africa. More than 850 thousand cars of the first two generations were produced.
Tuareg I (2002—2010)
Tuareg II (2010—2018)
The second generation was presented in Munich in early 2010. The body has become a little larger: length +43 mm, width +12 mm, but the height has decreased by 20 mm. But the most important changes are the addition of new modern electronic systems.
The engine range includes petrol engines ranging from 3.0 to 4.2 liters with a capacity of 280 to 360 hp. and turbocharged diesel engines with a volume of 3.0 to 4.2 liters with a capacity of 204 to 340 hp. There is only one transmission left - an 8-speed Aisin automatic transmission. Volkswagen also released the first hybrid car with a 3.0-liter gasoline engine (333 hp) in tandem with a 47 hp electric motor. with.
Tuareg III (2018— present _ in.)
Audi Q7
and Porsche Cayenne. The drag coefficient has been reduced from 0.35 for the second generation to 0.32. The car became a little larger and its dimensions began to be - length 4878 mm, width 1984 mm, height 1717 mm, wheelbase 2904 mm. The curb weight decreased slightly due to the more active use of aluminum and amounted to 2020-2070 kg. Boot space with the rear seats folded down has grown by more than 100 liters to 810 litres. With optional air suspension, the maximum ground clearance is 258 mm. The car can overcome slopes up to 60°and overcome fords 490-570 mm deep.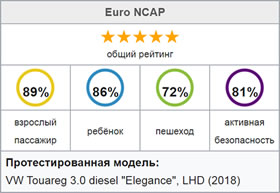 There were two models of gasoline engines - a 2.0-liter four-cylinder in-line (1984 cm
3
, EA888, 252 hp) and a six-cylinder V-shaped volume of 3.0 liters (2995 cm
3
, EA839) 340 hp for the regular model, 381 hp for the hybrid version and 462 hp. for sports version «R». There are also two options for diesel engines - a six-cylinder V-shaped 3.0-liter (2967 cm
3
, EA897 evo2, 231/268 hp) and eight-cylinder V-shaped 4.0 liters (3956 cm
3
, EA898, 421 hp). The transmission is only an eight-speed automatic.
In 2018, the car was tested for safety by the European committee Euro NCAP, resulting in an overall rating of 5 stars out of 5. See table for details.